03 Dec 2018
Malin To Mizen Charity Relay
Technopath Clinical Diagnostics raises €12,000 for two Charities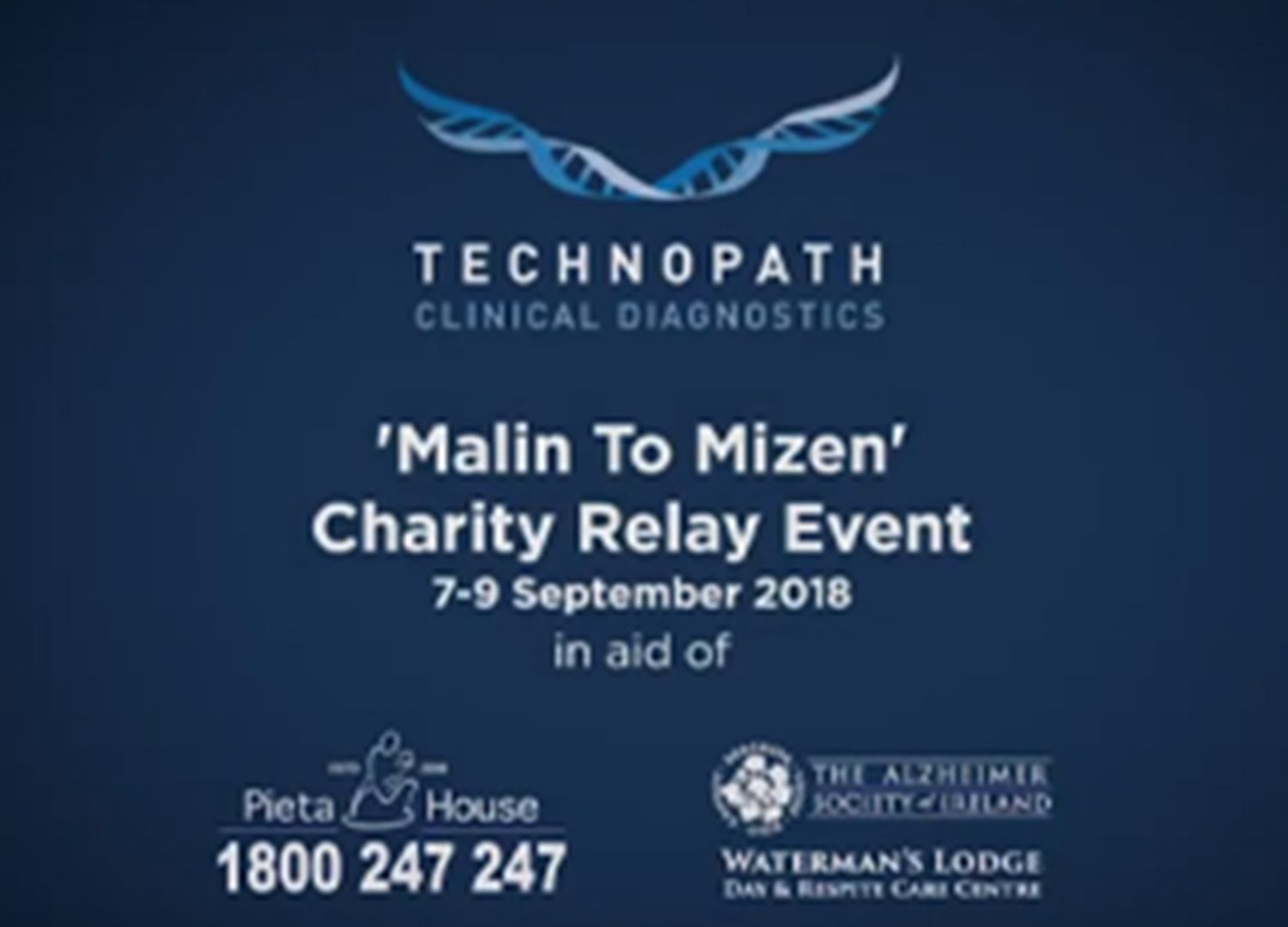 Technopath Clinical Diagnostics have presented a total of €12,000 to two worthy charities, Pieta House and the Waterman's Lodge Day and Respite Care Centre (Alzheimers Society of Ireland), at their headquarters in Ballina, Co Tipperary, Ireland. The funds were raised from the proceeds of a charity event, 'Malin To Mizen' relay, September last. The distance from Ireland's most northly point, Malin Head, to its most southerly point, Mizen Head, is 466km (as the crow flies!!). The staff of Technopath Clinical Diagnostics ran and walked this distance in relay form over a 48 hour period.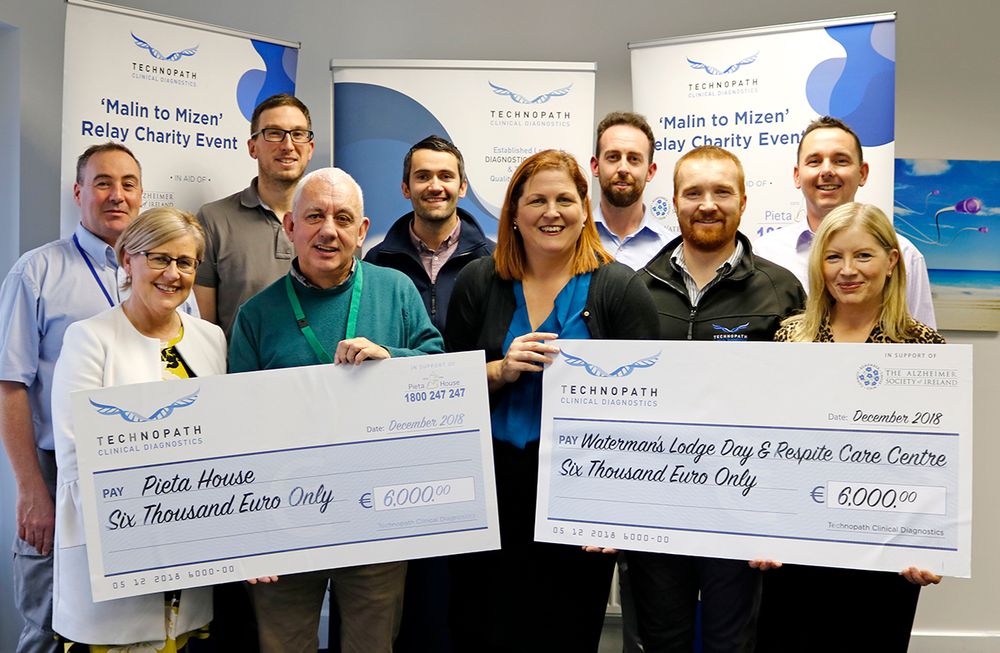 Members of the organising committee of Technopath Clinical Diagnostics charity event 'Malin to Mizen' relay run presenting €12,000 raised from the event to Johnny Togher of Pieta House and Christine McKenna of Waterman's Lodge Day and Respite Day Centre (Alzheimer's Society of Ireland).
The charities were each presented with a cheque for €6,000 recently by members of the 'Malin to Mizen' relay event committee at Technopath's head office in Tipperary, Ireland.
CEO of Technopath Clinical Diagnostics, Malcolm Bell commented, 'Supporting charities is of great importance to us and we are delighted to be in a position support these worthy charities. I'd like to thank all the local and corporate businesses for supporting the event.".
The Waterman's Lodge Specialist Day Care and Respite Centre is owned and operated by the Alzheimer's Society of Ireland (ASI), which provides dementia specific care to people living with dementia in our communities throughout Ireland. In 2017, the centre provided 12,256 hours of day care to people with dementia in North Tipperary, East Clare and Limerick. The funds raised for Waterman's Lodge are earmarked to help them to develop their new garden at the Lodge.
"Fundraising is an extremely important source of revenue for the Alzheimer's Society. Without it we would not be able to provide support services for people with dementia and their families across Ireland. Thanks so much to everyone at Technopath Clinical Diagnostics from everyone at Watermans Lodge for taking on this challenge to support our essential services" commented Christina McKenna, Director of Care, Waterman's Lodge.
Pieta House Mid-West branch is located in Limerick. Pieta House was established in 2006 to provide freely accessible, professional services to people who are in suicidal crisis or who are self-harming. In 2016, the organisation expanded its services to provide suicide bereavement counselling. The charity has locations across Ireland, and to date has supported over 36,000 clients using a solution-focused therapy model and an approach rooted in compassion and care. Pieta House employs over 240 full- and part-time qualified staff and operates a 24/7 Freephone helpline on 1800 247 247.
"We rely heavily on fundraising for the Mid-west branch of Pieta House. These much needed funds will contribute to the vital work of Pieta House" said Johnny Togher, Fundraising Executive, Pieta House West.
In addition to the relay run, volunteers held a bucket collection in the park to raise additional funds for both charities. Members of the public were very supportive and came along to show their support for the two worthy charities.
Thinking of a new career?
If you're looking for an inspired environment, passionate colleagues, and a culture that nurtures learning, innovation and team success, we invite you to join us.