01 Aug 2017
Technopath Clinical Diagnostics introduces new ultra-low concentration Multichem hsTn
Ballina, Co. Tipperary, Ireland – 01 August 2017 – Technopath Clinical Diagnostics is pleased to announce the launch of its new Multichem hsTn Control for both Troponin I (TnI) and Troponin T (TnT) assays. The new, ultra-low concentration, Multichem hsTn is an industry first; providing a stable, human based QC material targeted at the newly documented low-risk patient threshold of < 5ng/L. Technopath Clinical Diagnostics' proprietary manufacturing processes have positioned Technopath as the global leader in matrix stabilisation and consolidation matrices for Quality Control products. The release of Multichem hsTn marks the release of another innovative QC solution for diagnostic laboratories
Clinical background and analytical focus in the diagnostic laboratory setting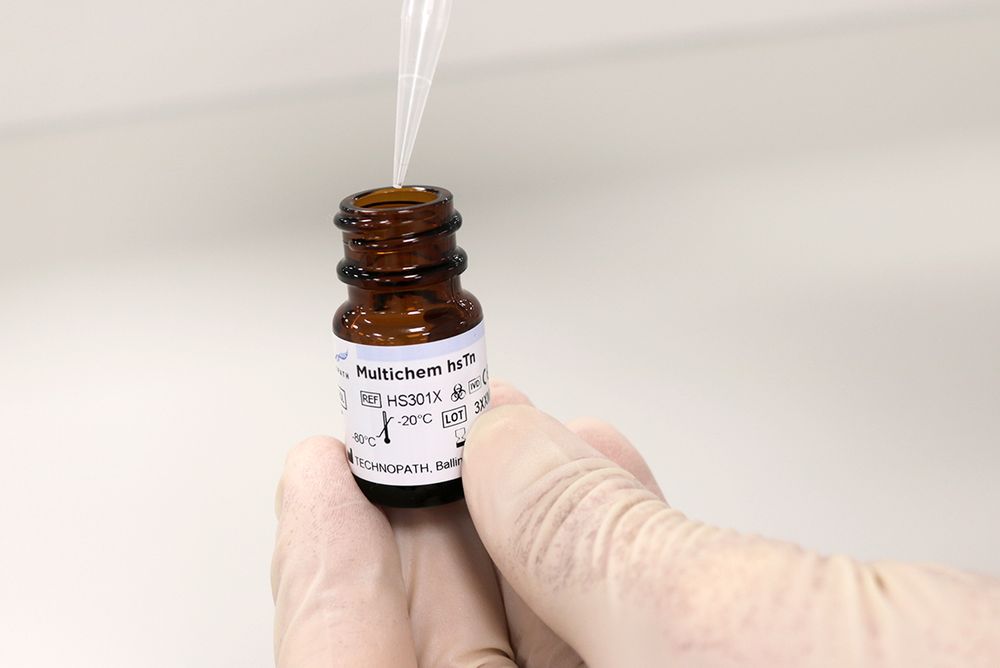 Patients with suspected acute coronary syndrome are typically admitted to hospital for serial cardiac Troponin testing to rule out myocardial infarction. Current assays for both TnI and TnT use clinical cut offs that are well established. A test result with at least one value above the 99th percentile upper reference limit (URL) for troponin testing indicates myocardial infarction.
Recent studies suggest that patients with undetectable plasma TnI concentrations are at low risk of myocardial infarction. The optimal approach and threshold of cardiac troponin to identify low-risk patients who would be suitable for immediate discharge from hospital has been established using a high-sensitivity cardiac TnI assay (1). The study established a threshold (< 5 ng/L) that identified a large proportion of patients at very low risk of cardiac events who were admitted to hospital but could have been safely discharged.
Independent quality control of Troponin tests at the new ultra-low concentrations is critical to ensure a proper assessment is made before releasing patient test results. Target values assigned to the Multichem hsTn control for Troponin are designed to reflect the precision seen at these ultra-low diagnostic levels. Multichem hsTn Control can be used in conjunction with Technopath Clinical Diagnostics IAMQC™ software, which provides laboratory managers and technologists with a range of QC software tools to analyse their QC results in real-time.
Full details on Multichem hsTn are available at www.technopathcd.com.
About Technopath Clinical Diagnostics
Technopath Clinical Diagnostics, a privately held Irish Life Sciences Company founded in 2004, is a global leader in the development and manufacture of quality control solutions which enhance the quality of patient testing by clinical laboratories. In 2008, Technopath Clinical Diagnostics launched the In-Vitro Diagnostic industry's first truly consolidated Immunochemistry Quality Control (QC) materials. The principal focus and vision was to remove the need for multiple test materials through consolidation of a large number of analytes in to a single product. Consolidation enables clinical laboratories to significantly reduce handling requirements, reclaim storage and minimise waste, leading to a more efficient quality control process. Technopath Clinical Diagnostics is now a high growth company based upon the success we have enjoyed in our home markets and the recent closure of significant product development & supply agreements on a global basis. Technopath Clinical Diagnostics has been ISO 13485 accredited since 2009 and has been successful in achieving US FDA 510K and China FDA approvals for all of our Multichem™ QC products. For more information on Technopath Clinical Diagnostics, visit www.technopathcd.com.
1. High-sensitivity cardiac troponin I at presentation in patients with suspected acute coronary syndrome: a cohort study. Anoop S V Shah*, Atul Anand*, Yader Sandoval, Kuan Ken Lee, Stephen W Smith, Philip D Adamson, Andrew R Chapman, Timothy Langdon, Dennis Sandeman, Amar Vaswani, Fiona E Strachan, Amy Ferry, Alexandra G Stirzaker, Alan Reid, Alasdair J Gray, Paul O Collinson, David A McAllister, Fred S Apple, David E Newby, Nicholas L Mills; on behalf of the High-STEACS investigators†.
www.thelancet.com, Published online October 8, 2015 http://dx.doi.org/10.1016/S0140-6736 (15) 00391-8
Subscribe to our newsletter for the latest updates
Receive regular Technopath news and updates straight to your inbox.