IAMQC® Transfer
The most advanced connectivity solution available for laboratory instrumentation.

Automated data collection. Easy to Implement. Introducing IAMQC® Transfer in to your laboratory will drive efficiency through automation, whilst increasing quality by transitioning away from manual entry programs.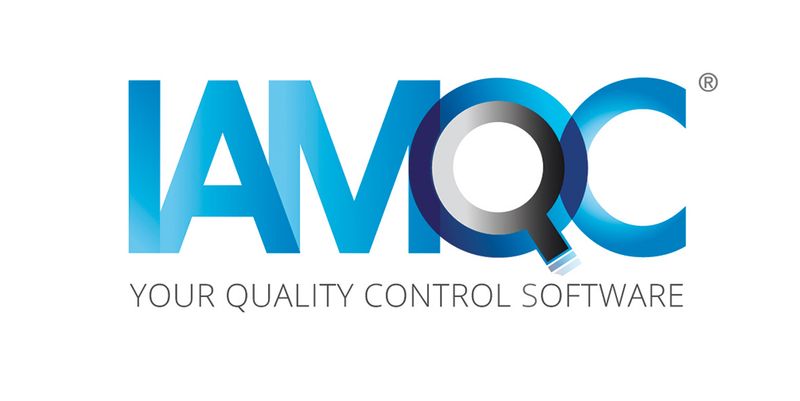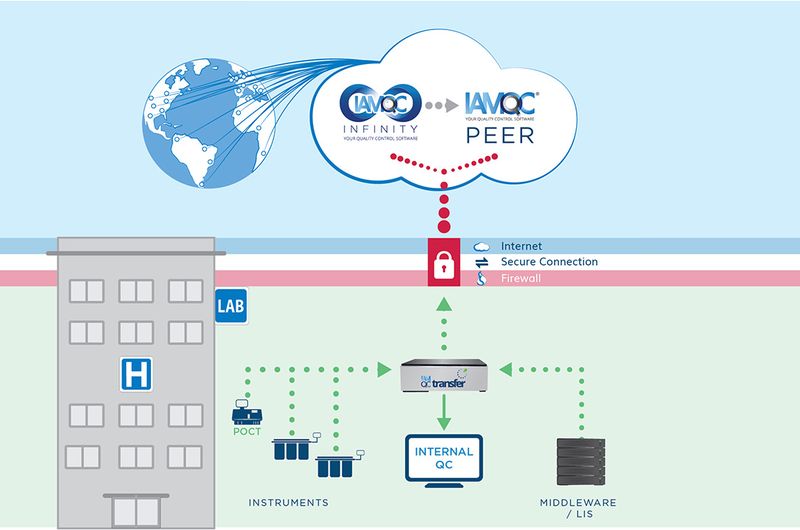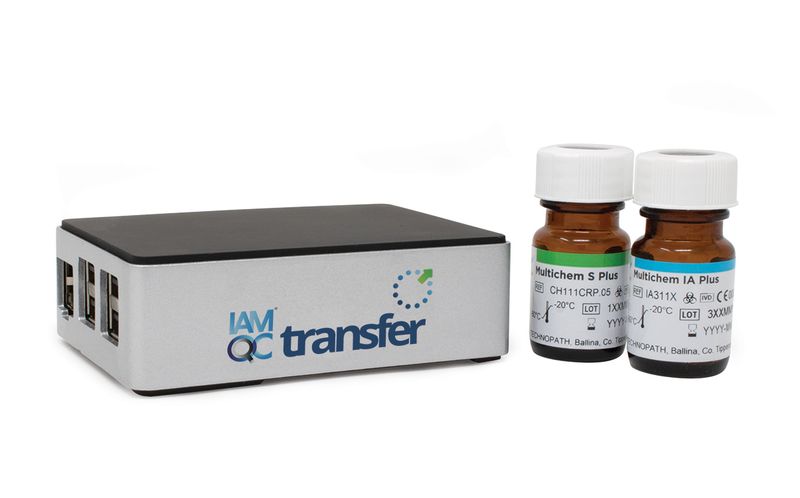 Product Description
IAMQC® Transfer is a connectivity device that can communicate with Laboratory Information Systems (LIS), Middleware and instrumentation. Through the use of our proprietary drivers and a single board computer device, IAMQC® Transfer processes and communicates data from your system to our powerful IAMQC Infinity and Peer software. A plug-and-play set up, combined with over 200 available connectivity options ensure an un-matched level of flexibility – all within an incredibly small, seamless enclosure.
Automated data collection. Easy to Implement. Introducing IAMQC Transfer in to your laboratory will drive efficiency through automation, whilst increasing quality by transitioning away from manual entry programs. IAMQC® Transfer can function as a uni-directional interface to process QC files and data streams of all formats. However, in addition to receiving the results, IAMQC® Transfer can also work as a bi-directional interface, where it will communicate back to the instrument, LIS or middleware. To satisfy the requirements of laboratories of all sizes and configurations, Technopath Clinical Diagnostics introduces IAMQC® Transfer, a next-generation informatic solution.
More than just an interface to IAMQC® Software, IAMQC® Transfer is available to purchase as a stand-alone connectivity device for your software program. By providing a comprehensive solution that can work with multiple information systems, Technopath Clinical Diagnostics' IAMQC® Transfer can automate your data collection process.
Contact us at
technopath.qcsoftware@lgcgroup.com
for more information.
Show
Benefits
Instant Peer data comparison from multiple instruments and locations
Facilitates Standards approvals such as ISO 15189 requirements
Increases confidence in your laboratory performance prior to proficiency survey events
User-Friendly set up and navigation with easy to read reports and tables
Centralised data management to review and recognise process efficiency opportunities
Automatic data submission using our menu of interfacing options
Cloud based system for ease of implementation and management
Features
Simple Set Up, recognising over 200 interface options automatically with minimum IT intervention required
Secure System reads only the QC information supplied by instrument and valid for transmission to the QC management system
Future Proof system interfaces with the secure IAMQC cloud based software to allow future upgrades to functionality
Automatic QC Data Upload to the QC management system increases accuracy, timlieness and integrity of record storage for audit purposes
Interfaces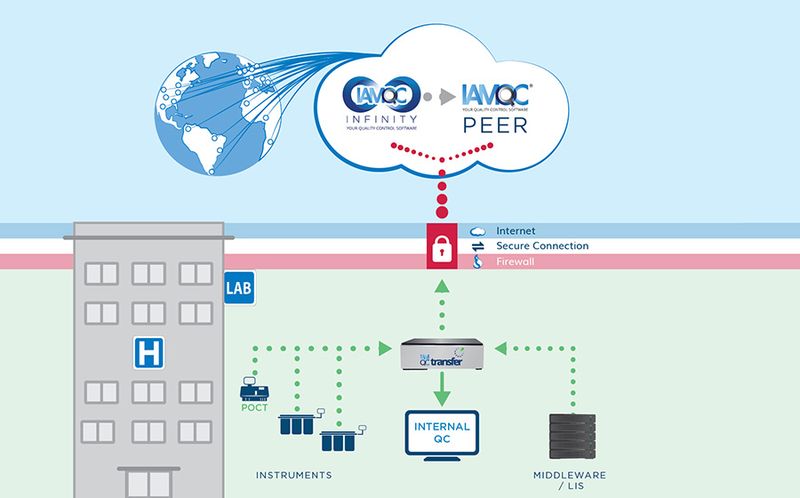 Interfaces
Providing the flexibility for an internet or intranet connection facilitates the customer in choosing their preference with regards to connectivity. The system can run locally behind the firewall, or alternatively, over the web should access be required outside of the local network.
Built-in real-time and semi-real-time interface solutions are available to capture data from all types of instruments, middleware systems and LIS across all departments. To date, we have developed over 200 types of drivers for data capturing purposes. IAMQC® Daily can also capture QC results from diagnostic instruments that are not interfaced to the DMS and from manual result entry programs on a daily basis. IAMQC® drivers include, but are not limited to the following list.
| | | |
| --- | --- | --- |
| Abbott Architect | Datalink | RCM Beziers |
| Abbott CELL DYN | EPIC LIS SDF 1.0 | Quadramed LIS |
| ABX | ERMA | Roche COBAS |
| AVL OMNI 5 | Fletcher Flora | Roche ELECSYS |
| Bayer Atlas | HMS LIS | Roche HITACHI 747 |
| Bayer CLINITEK | Hutt No 2 QC | Roche Integra 4.1.ARC |
| Beckman AU | IL ELECTRA 1000 | Roche Modular |
| Beckman DxC | IL Synthesis | Roche PSM |
| Beckman DXI ACCESS 2 | Immucor Galileo | RT Communicator |
| Beckman Remisol | LabDaq LIS | Schuylab LIS |
| Beckman SYNCHRON CX9 | McKesson LIS | Siemens ADVIA Centaur |
| Cerner LIS | Meditech LIS | Siemens CentraLink |
| Cerner Millennium LIS | Menarini | Siemens Dimension 2.0 |
| Citation LIS | MGC 240 Qualitative 1.0 | Siemens Immulite (DPC) |
| CLARIS LIS | Microplate | Siemens Novius LIS |
| Coag-A-Mate MTX II | Microscan | SOFT LIS |
| ConcurTrak SDF | MOLIS LIS | StaRRsed |
| CPSI LIS | Mysis LIS | Stat Profile M |
| Dade Behring BN II | NEMO Middleware | Sunquest 1 |
| Nephelometer | NOVA ELECTROLYTE 5 | SYSMEX |
| Dade Dimension | NUCLEUS | TOSOH A1c 2.2 |
| Dairyland LIS | Omnilab AMS | UF100 |
| Data Innovations IM | Orchard LIS | UriScan-S300 |
| Dawning UC | Ortho Vitros ECi | Viper |
Why Technopath
Technopath was the first company in the world to develop truly consolidated third party quality controls for hospital laboratories.

Through the benefits of test consolidated QC, Technopath's Multichem® customers have increased their laboratory efficiencies and reduced the cost of their quality control program.
Discover More
Our Clients
The main driver for change was a mandate to consolidate and improve workflow efficiencies. Reduced physical cost, coupled with a reduction in staff time, proved significant.
Blackrock Clinic Dublin - Eoin O'Rourke, Head of Pathology, Blackrock Clinic Ltd., Blackrock, Co. Dublin, Ireland
In 2017, Technopath signed a global agreement with Beckman Coulter Diagnostics.

"Technopath's highly efficient QC solution will help Beckman Coulter customers address the strong and growing demand for multi-constituent quality control products, and meets the requirements of lab accreditation."
John Blackwood - Senior Vice President of Products and Services at Beckman Coulter.
Sign up to our newsletter for the latest updates
Be one of the first to receive news from Technopath Clinical Diagnostics.